60 Seconds (or less) to a Thicker Fuller Hair. See How....
No Pills. No Serums. No Shampoos. Just a simple solution... JUVEKER Hair Fibers
JUVEKER is made of tiny hair-like fibers that attach to existing hair strands or scalp to instantly conceal bald spots and thicken thinning hair
JUVEKER has NO harsh chemicals, such as Ammonium Chloride, Silica, or Animal Byproducts
Once applied JUVEKER is undetectable and blends in with your existing natural hair.
JUVEKER comes in 8 hair shades, which may be combined for a natural look
BUY JUVEKER NOW!
DESIGNED FOR MEN AND WOMEN OF ALL HAIR TYPES
Juveker Hair Fibers are made of tiny strand of keratin hair fibers. Keratin is the fibrous protein that makes up real hair giving real looking results.
When JUVEKER is applied, it is not noticeable, which makes it a perfect accessory for everyone.
BUY JUVEKER NOW!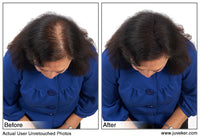 JUVEKER WILL CONCEAL BALD SPOTS INSTANTLY
JUVEKER can be used on large or small bald spots to hide them and give the appearance of fuller hair.
It is a tool used by the entertainment industry for years, and this is now available to consumers.
Give yourself the gift of fuller and thicker hair and see how it will make you appear younger.
BUY JUVEKER NOW!
JUVEKER WILL BLEND WITH MOST HAIR COLORS
JUVEKER comes in 8 shades and will generally blend in with most hair colors. You can even use two colors together, mix them, or try shading until you get the perfect blend.
The JUVEKER bottles have a removable cap, this allows you to mix different colors together in the bottle to create your desired shade.
BUY JUVEKER NOW!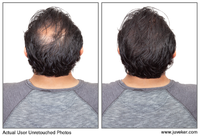 Enjoy Thicker Looking Hair at Any Age
As the years go by, and the bald spots start to show up, it can be disappointing to look in the mirror.
But instead of wearing embarrassing hats or trying expensive hair transplants, try JUVEKER.
With JUVEKER age doesn't matter, as these fibers can be applied in just sixty seconds and then set in place with any hairspray.
So forget about age, look forward to looking in the mirror, and try JUVEKER today!
BUY JUVEKER NOW!
30-DAY NO RISK MONEY BACK GUARANTEE. YOU HAVE NOTHING TO LOSE.
We are so confident that you will love JUVEKER, we will give you a 30 day money back guarantee. There is absolutely no risk. We will pay for shipping to you and back.
NO QUESTIONS ASKED! You can return JUVEKER for any reason or no reason - we will issue a full refund.
GET A FULL REFUND - EVEN FOR AN EMPTY BOTTLE. That's right, unlike other companies, we will give you a full refund even if the bottle is completely empty. This is how confident we are that you will love our product and what it will do for you.
buy juveker now!
HOW TO APPLY JUVEKER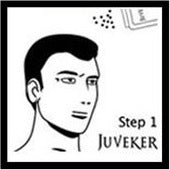 STEP 1 - apply to hair
Wash and dry hair. Style your hair as usual. Hold the JUVEKER bottle about 2 to 3 inches from the desired location and then gently tap the bottle (as you would tap a pepper shaker) to sprinkle the hair building fibers over the thinning hair or bald spot. 
STEP TWO - gently pat down
Once JUVEKER is applied, gently pat hair if necessary to disperse the hair fibers evenly within your hair. For long hairs, use fingers or a brush to scatter the hair fibers over the length of the hair for an even coverage. By patting the hair gently, you will also cause the fibers to stick better to existing hair strands.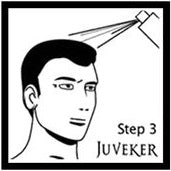 STEP 3 - apply optional hairspray
Apply your favorite hairspray for an all-day hold and to withstand wind and sweat. Although this step is optional, it is highly recommended. Any hairspray will do the job and unlike other brands you're not required to buy our hairspray (that's why we don't sell one).
buy juveker now!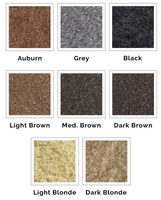 JUVEKER COMES IN 8 COLOR SHADES
Ideal for different hair colors, JUVEKER comes in 8 different shades. The colors can be mixed together to achieve a natural look:
* Black
* Dark Brown
* Medium Brown
* Light Brown
* Auburn
* Light Blond
* Dark Blond
buy juveker now!

DISCLAIMER: Juveker is not intended to treat, prevent, cure, relieve, resolve, stop or reduce hair loss or promote the growth of hair. Juveker is a cosmetic product made out of tiny fibers that conceal thinning hair and cover baldness once sprinkled onto hair. Your results will vary.